Fire the Cannons!
One Little Piggie may have gone to market... but where did all the others go? To The Town of Pigs, of course, where Team Boot read
The Book of Pigs
to them. Team Cannon decided to try a little animal welfare too - teaching monkeys to read
Nowhere in Africa
, but quickly changed tactics and opted for Piratical misbehaviour, leaving a book under the flag ( err...
Unter schwarzer Flagge
). Similarly, Team Wheelbarrow decide to stick it to the man, saying he could
Go Tell It On The Mountain
- excellent work from our new player and his team.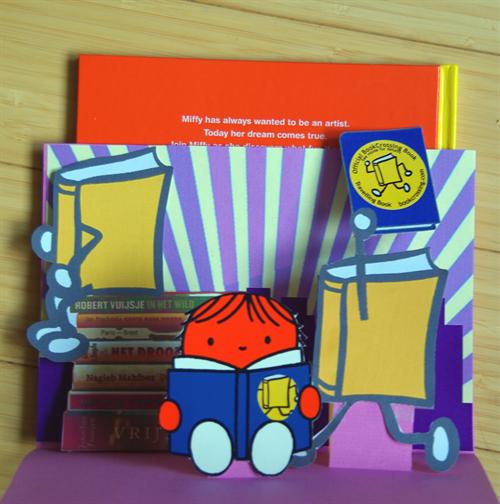 Moneybags get crafty!
With all this misbehaviour, Bally's in deep trouble - arrested and locked in prison! But fortunately Team Boot are well equipped with Doc Martens and placards to protest for his release; [In-]
Justice Denied
!
Team Moneybag get creative under the guidance of
Miffy The Artist
, with inspiration from a whole host of museums and galleries - The Pencil Museum, The Miffy Museum, The Book Museum... The Tate Modern Gallery and a Museum of Art... until finally they had all they needed to make an awesome exhibit to display Bally in. Team Scottie-Dogs wanted to join in with all the fun and games, but found soggy bouncing castles to be no fun, so sat and had a quiet chat with the
Queen and I
instead
Team Train at a church by the tracks
No time to play around for Team Wolf though, who displayed excellent time management (
Zeitmanagement
) in completing there speed release challenge. Likewise, Team Train are not playing around - they hear a
Serious Call to a Devout and Holy Life
, and have
Faith Without Doubt
- but will there prayers be answered? Will AF journal there books? No answer so far...
Likewise awaiting answers are Team Thimble, who saw
Männer sind wie Schokolade
get taken but are still awaiting a journal entry. Team Iron are also waiting for
Careless In Red
- their contribution to the community bookshelf - to get where it's going and be journalled by a fellow player.
Thimble's book gets taken
Not waiting for answers, but maybe looking for love are Team Battleship - pining that they are always
The Bridesmaid
and never the bride.
Also not waiting around, Team Racecar are already hitting the books in preparation for the next school year; but lucky for them Hogwarts set-text
Fantastic Beasts and Where to Find Them
is an interesting read.
Dearie me... there's the train... better not miss it as my flying car's malfunctioning...
Free Bally!
Bonus Points to:
Team Cannon, for cannily guessing that gamehost is a sucker for anything involving pirates
Team Wolf, for excellent use of limited calendar days
Team Boot, because pigs may fly before Bally's freedom is taken away!
Team Money bag for amazing papercraft skills
Team Racecar, because gamehost's first release in her first monopoly game was on platform 9 3/4, and she got a bonus point for that too
A third of the way through! Phew!